3C Toolbox Benchmark on Galaxy Note 2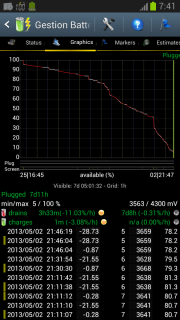 This benchmark is about battery monitoring alone, which is activated permanently. Device uses "Estimated mA".
In summary: 3 hours 33 minutes of screen-on use-time over 7 days 11 hours of total run time!
An average of 0.33%/h in standby, that is about 300 hours max.
An average of 11%/h in screen-on, about 9 hours of use.
Below are other screenshots showing average screen-on time/standby based on previous battery monitoring.