3C Toolbox Controls Popup
3C Toolbox offers a controls panel which allows controlling many system components states. Some controls require the installation of a system helper app which requires root. Depending on the app UI theme configuration the panel may look different. Click on thumbnail for full size.
Without root or without the system helper installed, this is how the control panel looks like in default theme or light theme (starting with version 1.2).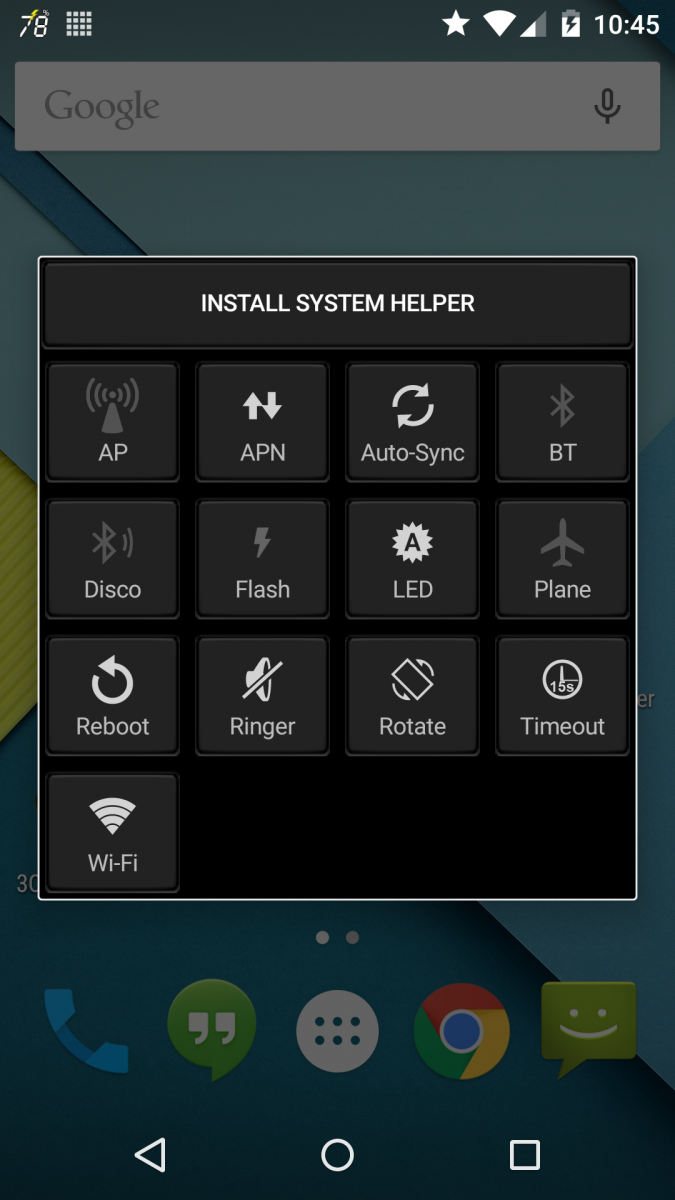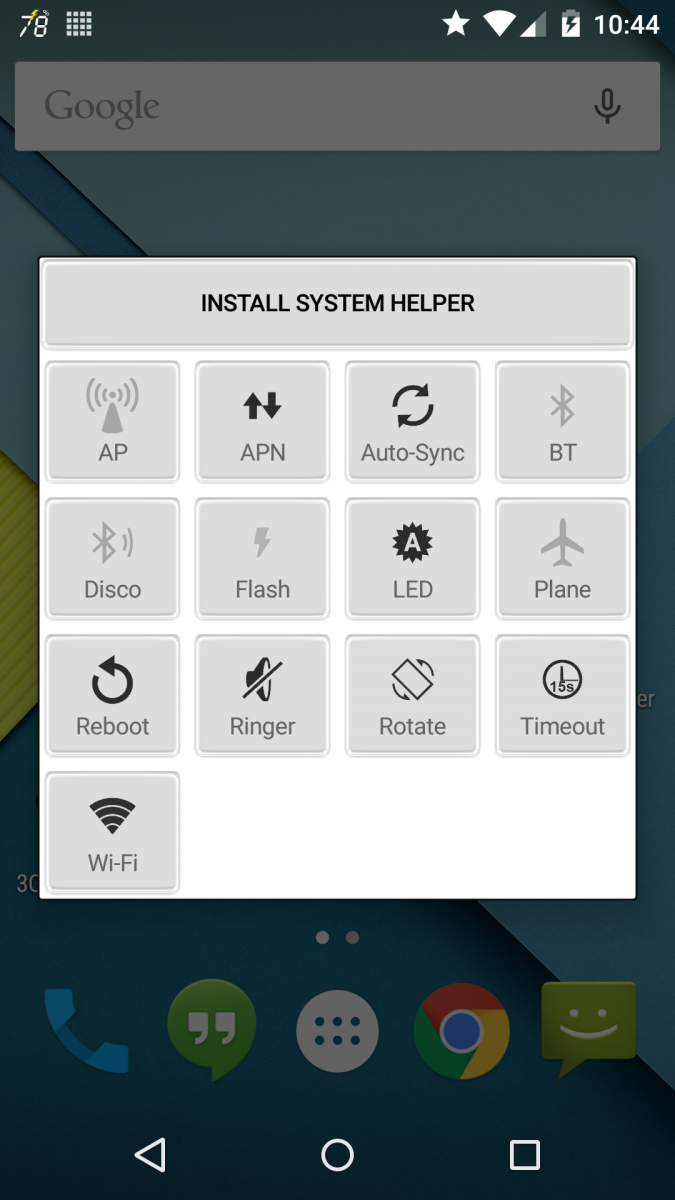 With root and the system helper installed, this is how it looks like, in default theme, light theme or with colorful icons.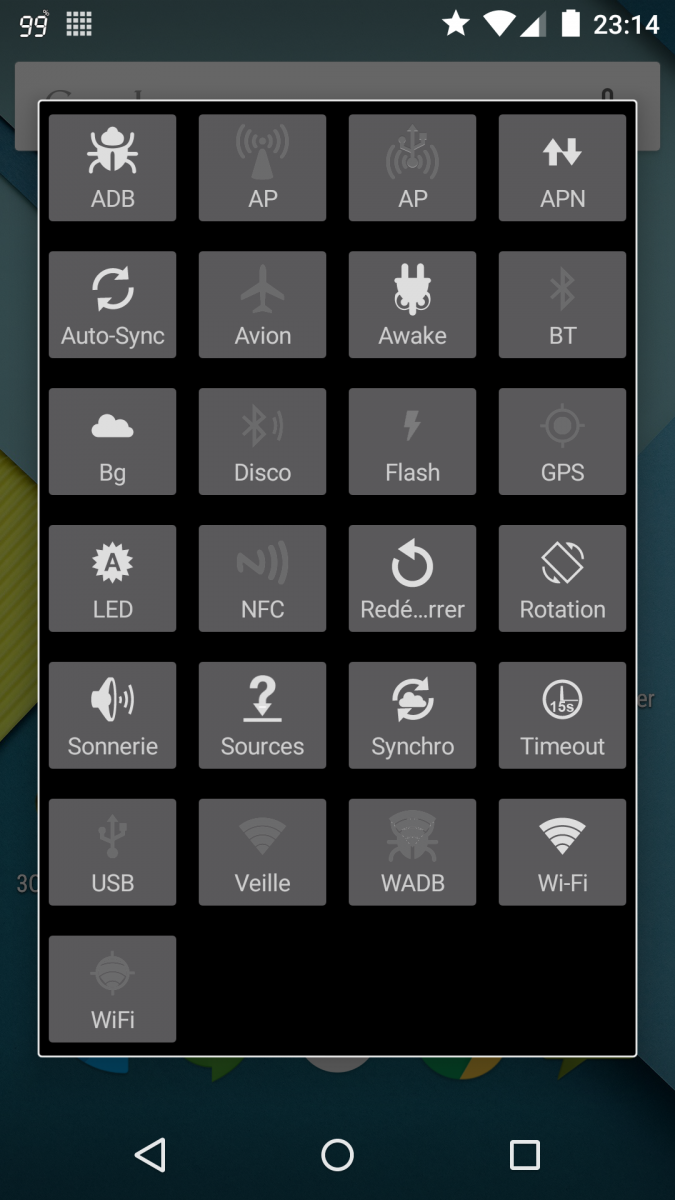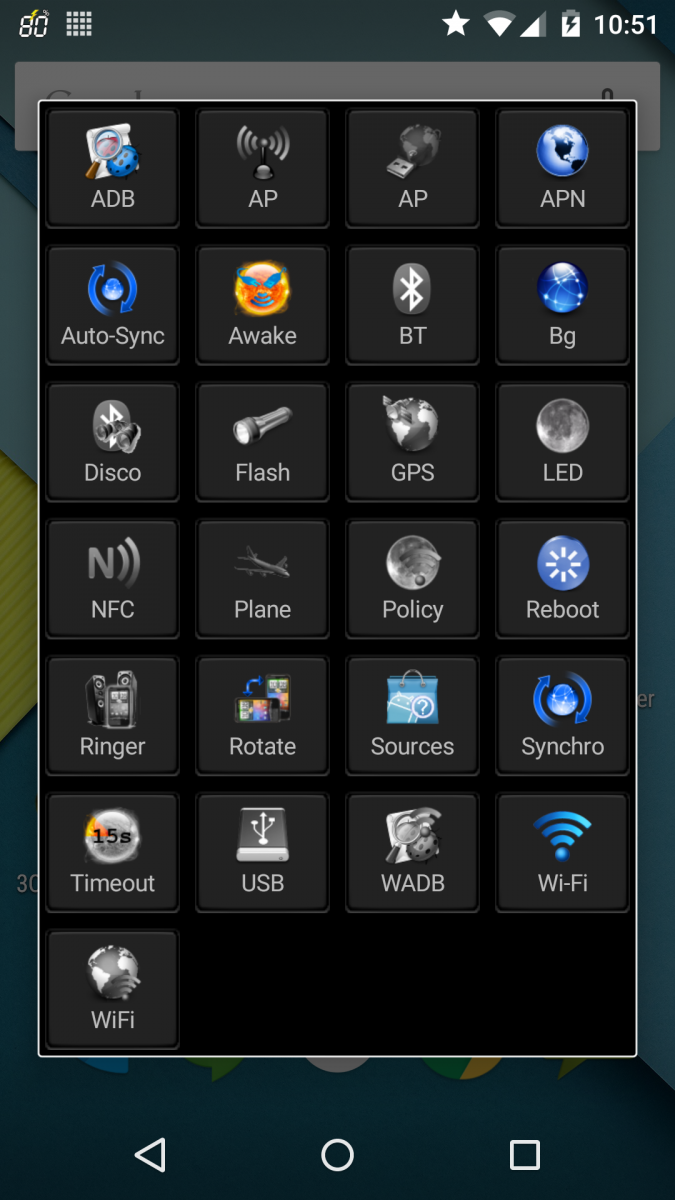 Here is details on each "toggle"/button, from the top left to the bottom right:
- ADB - Toggle Android debugging on/off, it allows connecting your device to a PC to manually control it.
- AP - WiFi access point, enable or disable WiFi tethering. WiFi must be turned off before enabling this.
- AP - USB access point, enable or disable USB tethering. Allows an USB-connected PC to use the device's mobile data connection.
- APN - Toggle mobile data connection on/off
- Auto-sync - Toggle app synchronization on/off globally
- Awake - Toggle stay-awake when connected on/off
- BT - Toggle Bluetooth on/off
- Bg - Toggle background data on/off
- Disco - Toggle bluetooth discovery on/off. Turning it on also turns on Bluetooth.
- Flash - Toggle the camera flash on/off.
- GPS - Toggle GPS localization on/off. Turned off means no app can get your location, turned on means any app can use the integrated GPS to locate your device. Localization on doesn't mean the GPS is locating you, only that apps can use it.
- LED - Toggle screen brightness to auto, low, medium and high brightness.
- NFC - Toggle NFC on/off (NFC is always off when screen's turned off).
- Plane - Toggle airplane mode on/off
- Policy - Switch WiFi policy from always on in standby, always off in standby and only on in standby when connected.
- Reboot - As the name suggests: offers to reboot your device, either normally, to recovery, bootloader or hot reboot (system reboot) or a simple shutdown.
- Ringer - Toggle volume from on, off with vibration or completely silent.
- Rotate - Toggle auto-rotate on/off
- Sources - Toggle unknown sources on/off, when on you can manually install any APK.
- Synchro - Toggle on/off auto-sync and background data
- Timeout - Change screen time-out between never, 15s, 30s, 1m and 2m.
- USB - Toggle USB storage on/off, if any connected to and supported by your device.
- WADB - Toggle WiFi debugging on/off (do not activate if you don't know what to do with it).
- WiFi - Toggle WiFi on/off
- WiFi - Toggle WiFi localization on/off. Note that most Android versions require a manual configuration for this to turn on.