Calibration - Measuring total capacity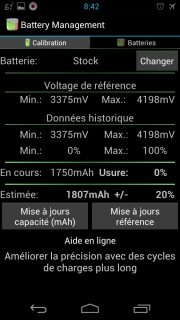 This screen helps maximize battery capacity and measure its aging. It can also handle multiple batteries and compare them easily.
How to measure total capacity (mAh):
Run a 50% or more uninterrupted charge starting as low as possible.
WARNING: Check this web site for battery aging.

The phone needs to be on and the app recording battery history.

Start charging as low as possible for better results.

Increase accuracy by running larger charge cycle (best is 0% to 100%).
Update current/in-use mAh:
When the measured/estimated mAh is precise enough
The "Update mAh" opens a dialog where you can adjust the capacity to use from now on.
Reset Aging / Update mV range Reference:
When the aging is incorrect due to incorrect mV reported (by Android).

The "Update references" updates the mV range and resets the aging %
How to change battery: 
Turn off the phone.

Change the battery physically.

Start the phone.

Change the battery in the calibration screen of the app.
Important notes:
The app supports 2 types: phones that report measured mA and phones that report estimated mA.

On main and calibration screens, "Estimated:" will replace "Measured:" or "Actual:"

When estimated it is important to set the AC charger capacity to control the charge process.

 
Do not change history logging rate, it will prevent calculating mAh. 

Run continuous uninterupted charge cycle.