Log Reader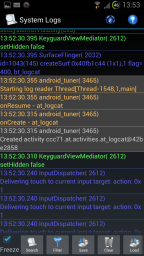 This screen shows logcat or kmsg data from Android operating system.
You can filter the output by log level (info, warning, etc), or using a custom text. Alternatively to filtering you can search using a custom text.
Long-press a log to copy it to clipboard in case you want to use it in the terminal emulator.
Logs can be saved to file for later loading.
WARNING: On Android Jelly Bean (4.1.x) and above, Google has disabled logcat, so the app needs root to access it and uses a special trick which takes upto 5 seconds to read the first line of logs.
If you experience lags, tap the clear button to clear all existing logs to focus on new logs.
kmsg logs require root access to be read.
Not enough information? Please suggest improved/new/updated content e-mailing me the current URL and content you need to get improved/updated.