File Explorer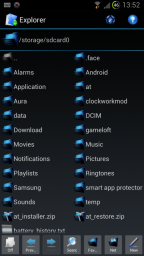 This is a basic file explorer with auto-root feature, network share and streaming abilities.
Note that pressing the back button always exits the screen. Never liked those explorer where you have to press a dozen time the back button to exit their screens if you don't want to use the home button ;)
By default network share access will require WiFi connection, so the app will enable WiFi (if rooted) and wait for a connection before proceeding.
The UI as been made as simple as possible and without button scrolling for fast access (don't like scrolling either).
No 'refresh' button yet, but pressing previous/next does the trick for now (no more room for such button on standard devices).
To copy or move files or folders, make a selection, long-press on one entry and select copy (or cut). Browse to desired destination and use the new button which appeared on the bottom left to paste (or move) your selection to the current path.
Not enough information? Please suggest improved/new/updated content e-mailing me the current URL and content you need to get improved/updated.