3C Toolbox Main Screen
This screen is the main entry point to the application features. You can actually configure which buttons to show, up-to a maximum of 24 buttons (4x6). 
To access all options for that screen, tap the settings button, UI, Main screen. Amongst the options available:
Show as a popup window (see screenshot below).
Text size
Button theme
The right picture shows the default button configuration upon installation, which includes the following activities: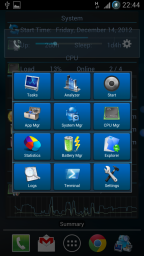 The screenshot on the right shows the same configuration but using a popup.
Not enough information? Please suggest improved/new/updated content e-mailing me the current URL and content you need to get improved/updated.