Terminal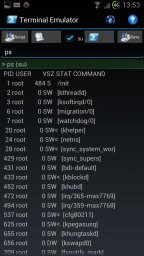 This screen allows you to run linux command as if in a shell, though it's slightly different:
You type command at the top, pressing enter allows you to type multiple command before running them.
Tapping a previously ran command puts it back into the command editor.
There is no arrows on most Android keyboard so no ways to browse history of commands, hence the history button at the top.
Long-press an output line to copy it to clipboard so you can use it in the command editor.
You can also run any scripts located on your device, including scripts stored in /etc/init.d if your device is rooted.
Not enough information? Please suggest improved/new/updated content e-mailing me the current URL and content you need to get improved/updated.