Process Details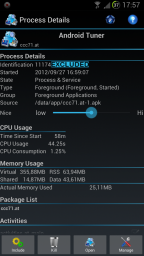 This screen displays an app or process detailed information and allows to change its Unix "nice" priority and enable/disable any of its components.
You can:
include or exclude the app from the auto-kill feature available in the

task manager

.
set the app's scheduling priority (also called nice in Linux term), lower value meaning lower priority (eg higher nice value).
kill the app (using method selected in app's settings, UI, task manager, force-stop only available if rooted).
disable app's componenets (in secondary tabs, only available in 3C Toolbox or System Tuner).
From that screen you can also open the app, its log information, the app Android settings or even Google Play store detail page for the app.
The manage button allows you to manage the app, such as uninstall, freeze (disable as if uninstalled), crystallize (prevents app from running in background), move (to SD or system), etc. More information is available in app management, apps list.
Warning: Note that disabling an app components may render that app unusable, so make sure to remember which app you changed or actually test an app functionality after disabling some of its components.
Not enough information? Please suggest improved/new/updated content e-mailing me the current URL and content you need to get improved/updated.